DreaminKinoko's Digital Art Commissions! :D
Open slots available: 3
Commission form is near the middle of this page :)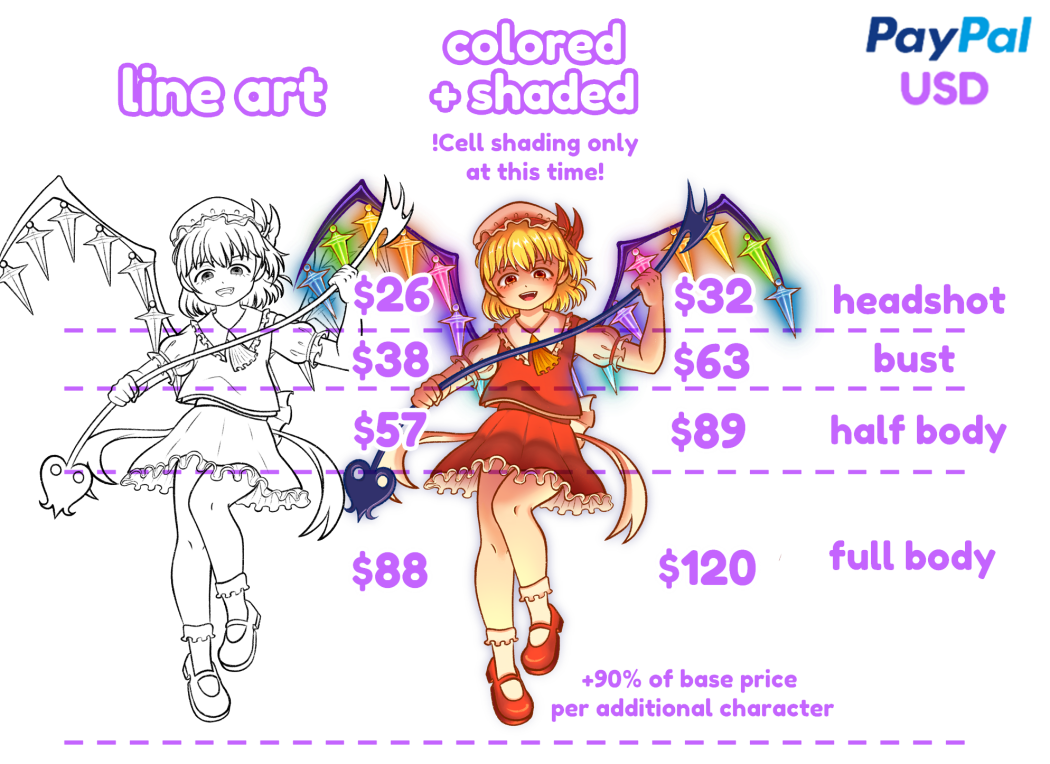 Additional items/accessories (e.g. wing, weapons, large props): +5-15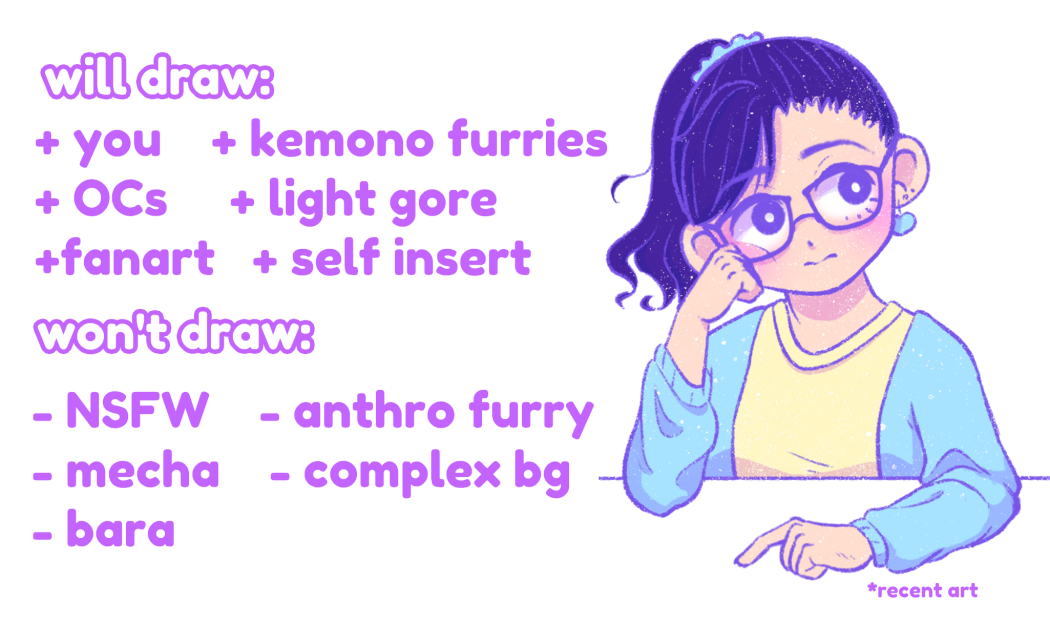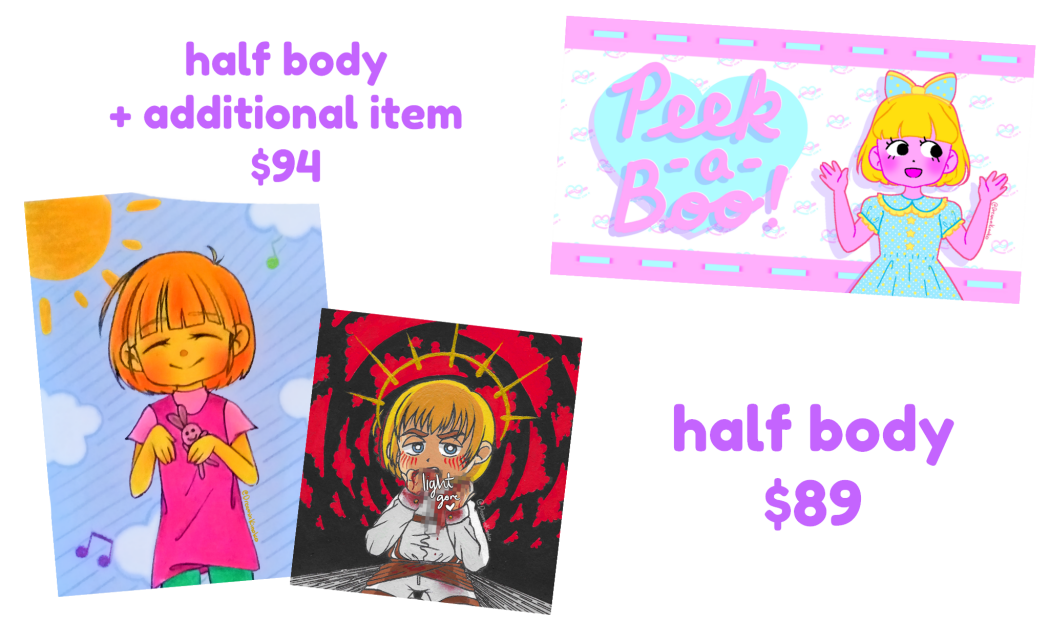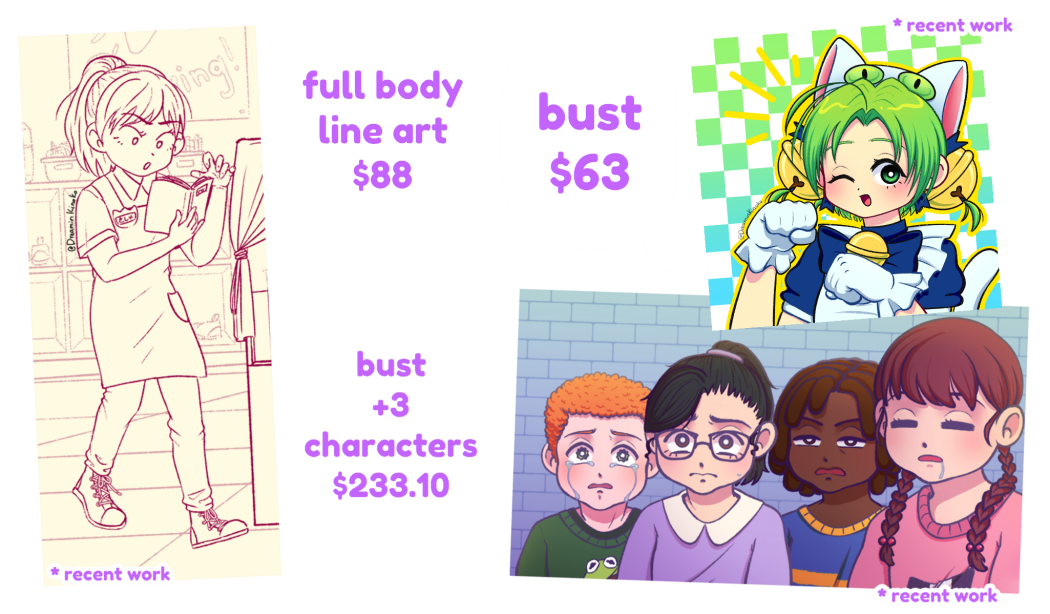 By commissioning me, you agree to these Terms of Service:
General:

I have the right to turn down your commission if I feel I cannot satisfy your request or feel uncomfortable with its content.
You understand that, if you choose to get a colored piece, it will be cell shaded, not fully rendered.
If you have a time-sensitive commission that you need done by a certain date, you must let me know of that date when sending in your commission form.

Usage:

Any progress photos I send during any stage of the commission process can be used for personal use after final payment is made.
You may post the image online, credit optional.
You mustn't use the image commercially/profit from it.
All commissions will have my small username watermark on the finished piece. This mustn't be removed.

Pricing & Payment:

Payments must be made through PayPal (USD) only.
Prices may increase for complex/overly DETAILED attire, accessories.
If you decide to change something major (character, large portions of a pose, etc.) that you were previously satisfied with, you will incur a $5-20 fee. This range is subject to change with the complexity of the change.

Refunds & Cancellations:

If I cannot complete your commission for any reason, you will receive a full refund.
If you cancel before I send the first progress photo, you will receive a full refund.
If you cancel and use Paypal, you musn't use Paypal chargeback. You will receive a refund from me on Paypal.
No refunds after I send in the finished sketch progress photo or after I send in the final piece.

Process:

Upon my acceptance of your commission, I must receive 75% of the total price (via Paypal invoice issued by me) before I begin working on it.
You will then receive a sketch for approval and/or revisions, followed by several progress photos of the final piece.
After finishing the lineart and/or color and shading, you'll receive a largely watermarked finished piece for any final light revisions or color corrections you see fit.
I must receive the remaining 25% of the total commission price after sending in the final, largely watermarked, piece. After receiving this payment, I will send the finished piece without a large watermark, only featuring my small username watermark.

Lined commissions will receive a .PNG of the linework with its background, and a transparent .PNG of the linework filled in with white.
Colored commissions will receive a .PNG of the piece with its background, and a transparent .PNG of the characters without the background.
Please allow 1-4 weeks for completion of your commission, or additional time for more complex pieces! :)
After filling out this commission form, please copy/paste it and send it to me through:
(Alternatively, if you just wanna send me your idea, just skip the form and type your idea for me, lol.)
Here are some full examples of my work! :) Thanks so much for looking!